Welcome to B&CH Music
We are producing and selling music instruments, hardware and accessories. We are shipping worldwide.
Shipping prices: EU €24,00, Guitars to France and Spain - by EMS only price from €66,00, outside of EU by request.
News

BACH MUSIC ON FACEBOOK | 21.06.2014 We start make our presentation on Facebook . Look at and brace up !


SUPER PRICE OF LAST TUBE COMBOS FROM OUR SHOWROOM | 19.06.2014 Dear customers , We sale 2 pcs of AT-05 and 2 pcs of AT-15 full Tube combos from our showroom for Super prices! Look at them in section AMPLIFIERS.

DPD FREIGHT TO FRANCE | 16.06.2014 We have been contacted by DPD freight company for sending our goods out over them. Since now , We can send Guitars to Countries as France , Portugal or Spain without any problem as We used to have before.
Just We are working on our new , much better e-shop.
Have nice sunny days.


NEW MODEL 2014 AF-1 SGHB | 10.06.2014 Since next month We start offer our new models for this Year 2014.As the first one is a very nice guitar AF-1 SGHB , an instrument with set-in neck , quality licenced Korea FR , our best pick-ups BACH-201 and perfect sounding mahagony wood.
This model has the flamed maple top covered by Honey burst finish , flat top with rest hand area , belly-cut back. Another plus are Pickguards made from the real India Rosewood wood. Two simple mini-toggle switches make from the pick-ups either Humbuckers or Singles.
Enjoy .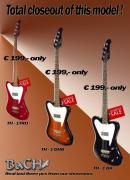 TOTAL CLOSEOUT OF LAST TH-1 BASSES | 10.06.2014 Dear friends , there are only last three TH-1 basses in our showroom and because We have decided to not dealing with this model ever , You have the last chance to buy them .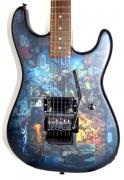 CUSTOM COMICS BST | 05.06.2014 Only one last free pcs of our new Comics line. It will be to purchase yesterday.