Welcome to B&CH Music
We are producing and selling music instruments, hardware and accessories. We are shipping worldwide.
Shipping prices: EU €24,00, Guitars to France and Spain - by EMS only price from €66,00, outside of EU by request.
News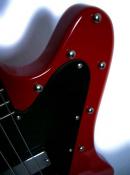 LIMITED BASS FT-1 OR | 06.11.2013 Offer of last pieces of FT-01 OR basses with bigger pickguards and chromed studs around the pickguard.